When your employees have to wear a uniform to work, they might have a hard time keeping them clean. Paramedics might end up with vomit on their uniforms if they are helping a drunken person who has fallen over in the city centre whilst on a night out. Firemen might end up with soot on their clothes after they have tackled a particularly fierce blaze. Miners often become caked in dirt when they are digging or drilling beneath the earth's surface.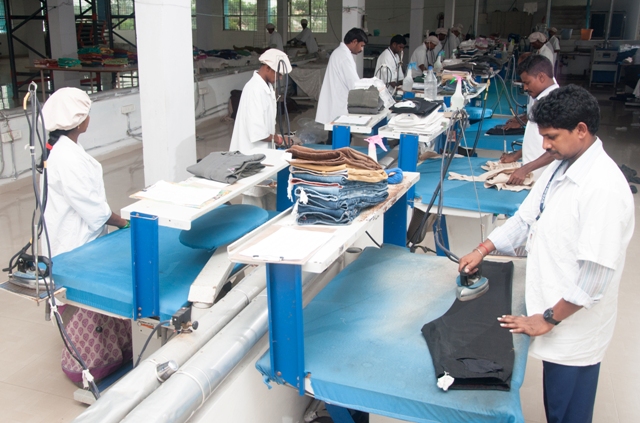 Hiring a laundry service is a good idea for any business which needs to keep workwear clean at all times. What are some of the different items of workwear that can be taken care of by a professional laundry service?
Chef's Overalls
Working in a kitchen is very demanding. Chefs try to work as neatly as possible, but often their work overalls can become stained with small amounts of food. Nowadays, it is becoming more and more popular for restaurants to have kitchens that are in full view of the paying customers. This allows customers to see how their food is being prepared. Chefs need to look presentable when they are on the job.
Another reason for keeping chef's overalls as clean as possible is the fact that small food stains can be extremely unhygienic if they are not cleaned up within a day or so. This means that workwear laundry services will be able to keep the chefs looking presentable, as well as reducing the risk of food contamination.
Busboy's Outfit
The busboy is one of the most important people in any hotel workforce. It is their job to make sure that all the guests' luggage is safely looked after in the hotel and deposited in the room. The busboy is usually one of the busiest people on the hotel team, and they need to look as smart as possible all of the time. This means that their outfit needs to be regularly cleaned by a professional laundry service, which can make sure that they deliver the outfits of all the busboys back to the hotel.
It reflects badly on the hotel if the busboy's outfit is in poor condition. The laundry service will be able to make sure that this is never an issue.
Receptionist's Outfit
The receptionist of a hotel deals with hundreds of people every day and is responsible for accepting payments, confirming bookings and being the first person that usually has to deal with the complaints of the customers. The receptionists need to look the part at every single minute of their shift because otherwise, customers might think that they are being unprofessional. A professional service will be able to make sure that all the receptionist outfits are washed and ironed before being sent back to the hotel.
The management should make sure that the receptionist is well presented at all times. Failure to do so could result in disciplinary action.
Once you have found a laundry service that will take on a large amount of hotel washing, you will have peace of mind that all of the receptionist uniforms can be dealt with carefully.
Waiter's Outfit
Guests often decide that they want to eat in the hotel restaurant, which is often cheaper than eating out in the restaurants which are surrounding the hotel. The waiters and the waitresses need to make sure that they give the guests the best possible experience and leave a positive impression with their level of service.
Whilst guests will be most concerned about the quality of the food and the level of the service, they will also take note of how well the waiting staffs are dressed. This will affect their judgement of the restaurant and of their overall experience.
Hotels need to make sure that the waiting staff look smart at all times, so a laundry service will need to be called upon. Some hotels might have hundreds of staff in multiple hotel restaurants, so the hotel managers need to find a laundry service which will be happy to deal with hotel uniforms which are sent to them in bulk.
Kitchen Porter Uniform
The kitchen porter is the utility employee of the hotel restaurant. They have dozens of different jobs that they are required to do on a daily basis. Firstly, they will be tasked with making sure that problems with any kitchen appliances are fixed properly. They will also be given menial food preparation tasks such as peeling potatoes and carrots in preparation for them being used in the meals at lunch and dinner service.
They will also be expected to help the dishwasher when their workload demands it.
However, they are not only required to do activities that are behind closed doors and away from the guests. Kitchen porters will also be expected to ferry food out to the guests when things are busy and they should fill up people's water glasses. This means that their uniforms can get dirty and will need to be cleaned.
Railway Workmen's Overalls
When people are working on the railways, they will have to do lots of jobs that could make their overalls extremely dirty. The stains can include oil and chemicals which are used to keep the railways clean at all times.
These overalls might not be able to be cleaned with an ordinary washing machine and power. This means that the railway maintenance company should arrange for a specialist laundry company to take care of the workload. Specialist chemicals and machines will be used so that the workmen's uniforms look as good as new after they have been thoroughly washed.
Whilst railway workmen do not necessarily have to look presentable for the general public, but they need to be extremely visible when they are working on the tracks. Trains will be able to see groups of workmen when they are approaching, which will prevent anyone from becoming injured.
Use a professional laundry company for excellent results.