Your kitchen cabinets are a part of the kitchen that takes up the most space, so when they begin to look tired and dull it can have an impact on the rest of the room. Kitchen cabinets are used in a variety of different ways and are presented in a way that complements the rest of your kitchens décor. By sprucing up your kitchen cabinets and giving them a new look you will automatically add character and charm to your kitchen interiors, whilst also adding value to your property too.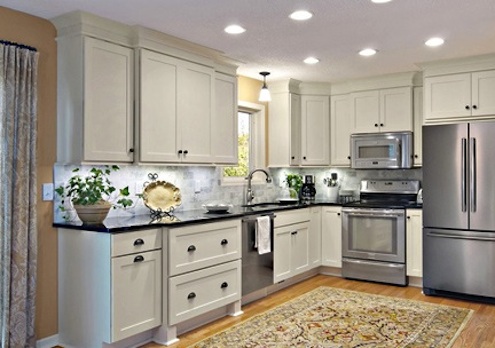 Utilising the Storage
Once your kitchen cabinets have become worn and dull it's often difficult to look at your kitchen in a positive way. You start to feel like your kitchen is one cluttered mess with no style or uniqueness. One great way to restore your current kitchen cabinets is to utilise them properly and introduce substantial storage. This will ultimately help the rest of your kitchen look brighter and neater and then you'll be able to get the most out of the space that you have available to you. You may find that introducing additional kitchen cabinets is a really beneficial way of providing your kitchen with more essential storage space to help keep everything in a place of its own. When you add new cabinets to the interiors, be sure to keep them in a neat space that enables the rest of the kitchen to flow properly.
Replace or Repaint
Kitchens can become an expensive project when you factor in the many different elements that you need to create the perfect style for your home. It may feel like the moment your kitchen cabinets begin to look tired and dull you need to spend huge amounts on replacing the whole thing, but it doesn't have to be a huge project to brighten the current kitchen you have. Many homeowners are now investing in some stylish replacement kitchen doors, to brighten up their kitchens and enhance the overall look. Replacement kitchen doors are ideal for updating the current style you have, whilst keeping the cost low and also saving lots of time. If you don't really want to replace the current cabinet doors that you have due to their style, or simply because they don't need to go, then you can look at having them repainted. Giving your kitchen cabinet doors a fresh lick of paint is the perfect way of giving them a brand new, brighter look that will lift the atmosphere within your kitchen instantly. You can also keep up with seasonal trends when you paint your cabinets as and when you want too, which will keep your house trendy and stylish all year around.
Kitchen Cabinet Lighting
Good lighting is a huge must with any kitchen interiors. Not only does is make preparing and cooking meals 10x easier, but it also helps to enhance the overall look of the room and create the perfect atmosphere. A very popular place to add some extra lighting is in or below your cabinets. Whether you opt for lighting that switches on and illuminates the inside of your cupboard when you open them or, you want to go for some under cupboard lighting that lights up the counters below, you can create a really trendy, unique look by choosing this kind of lighting.
Introduce Crown Moulding
A very popular kitchen décor trend today is crown moulding. By adding crown moulding to your kitchen cabinets, you are instantly creating a whole new look and adding character to that whole area of the kitchen. Crown moulding is perfect for enhancing your cabinets and creating a seamless design. You can create a modern, contemporary style with simplistic crown moulding, or you can go for a unique, detailed moulding style that will compliment your kitchens décor perfectly.