Your kitchen may be the one room in your home that receives the most traffic. After all, you go there whether you're cooking a huge meal for a lavish dinner party or simply getting yourself a glass of water. Lately, though, you may be worried that your kitchen is starting to look a little dated. Some changes are in order; whether it's rearranging the decor a little or completely redoing the whole kitchen, you have found yourself in need of an upgrade. One of the best ways to bring your kitchen into the modern day is to update your countertops. Here are the top options for doing just that: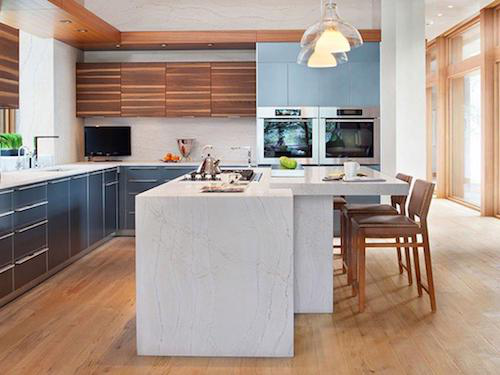 Paint Your Countertops
Sometimes, an upgrade is as simple as a new paint job – and this applies even for your countertops. It may sound a bit crazy, but you can achieve some very impressive, durable and transformative effects by painting your counters. These paints specifically designed for countertops and come in almost any color you can imagine. With a little creativity, you can also customize the designs on your countertops. For example, using a darker color and a couple of lighter colors, you can paint your countertop to look like marble or granite. You can buy kits that will help make this process relatively easy.
When selecting colors for painting, you will want to consider the overall look of the rest of the kitchen. Colors like black and brown are versatile and go well with anything from modern to traditional kitchens. Bolder colors can be used as well, but take care that they match the style of the kitchen. Since the paint is going on high-traffic surfaces that will get a lot of use, it is important to follow the installation (particularly the preparatory) procedures very closely. If you haven't done much painting around the house before, it may be best to hire a professional contractor to ensure you get the best possible result that will be sure to last.
Tile Your Countertops
If you don't mind a project that's a little more involved, you can also install custom tiling on your countertop. This is a project you can do yourself, or contract out. If you do want to try to tackle it on your own, you should first pay a visit to a building material supply store. You will be able to get high quality materials and the tools you need there.
To install tile countertops, you will start by removing the old countertop entirely. You will need to install wall cleats to any part of the wall that does not have cabinets to help support your new countertop. You can then screw down plywood that will act as the subsurface and allow you to attach a solid tile backer. This is where you will be placing the tiles. You will cut strips of cement board and place your tiles on those. You can have a lot of fun figuring out what tiling you want to use; you can have a simple design or a colorful mosaic, it's up to you. You can purchase tiles from a supply store, or, with the proper tools, it is possible to take larger pieces of stone and cut them into custom tiles for a unique look. Once you have installed the tiles, you can add a decorative border which will bring even more custom flair to your new counter.
Try Concrete Countertops
As we mentioned above, you can paint your countertops to resemble stone, or you can make your own concrete countertop. You will have to get melamine particle boards to construct your form and rebar to support the concrete once it has been built. Doing this the exact way you want to may take a couple of tries, so you can start by building a test form and practicing. Of course, you will have to remove your old countertops and measure the exact dimensions you need for your new ones. When it comes to concrete you can use pigments to alter the color, however, your color options are not as versatile as with other options, but you can still darken the natural color if that's what you think would suit your kitchen best.
To construct your concrete countertops you will build your melamine form based on your measurements and then make sure it has been cleaned and sealed. You will then place your reinforcement on the inside of your form. This will mostly be rebar, but you can use remesh as well to hold the shape of the countertops once they have been poured and set. Pouring the concrete will require a concrete mixer, which you can rent at many supply shops. Once you pour the concrete you will need to vibrate it to remove any air pockets. Then you will smooth the concrete out and allow it to set. Once it has set, you can fill any holes with a slurry, finish it with a polyurethane seal, and install it in your counter.
Concrete is a great, sustainable, modern option, but it does take some skill and it is heavy, so some people may want to consider outsourcing this to professional contractors.
Custom Countertops
There are also countless custom countertop options on the market today. You'll be surprised by the various materials and styles now used to upgrade a kitchen.
Beyond what we've already covered, there are many other options to choose from. Stainless steel countertops are an excellent choice for a sleek, modern appearance. Wooden countertops can also be custom made and installed for you. Wood is extremely versatile and works well especially if you are looking for a more traditional appearance to your kitchen. Butcher block can be installed on your countertop for a beautiful, timeless look. Wood can be painted any color, or it can be finished and stained to maintain its natural appearance. You can also have customized stone countertops made.
One of the most beautiful options you have is to use Cambria Quartz. Made from 93% natural quartz stone, Cambria does not require any maintenance, and its nonporous surface makes it impossible for bacteria to grow on.
One increasingly popular option with stone countertops (although it can be done with many different materials) are 'waterfall countertops'. With a waterfall countertop the surface of the countertop continues seamlessly from the horizontal workspace down the vertical side of the cabinets to the floor. This creates a stunning, cohesive look for your cabinets and countertops and will be sure to wow your guests for many years to come.