Pressure washer is an excellent tool for home improvement project. Other for standard cleaning task, it could also be used to clear the work area or specific objects before the task is completed. There are different types of pressure washers that we can use in our home. Before buying a proper washer, we should make sure that it is appropriate for the type of task. As an example, we could find pressure washers that are appropriate for residential, commercial and industrial usages. Understanding the characteristics of these three washers could determine what type that we can choose.
Residential pressure washers are qappropriate for light or moderate tasks. There are common tasks that can be completed with this type of pressure washers, such as washing car, kayaks, small boats, jet ski and ATV. Pavements, driveways, stone walls, brick floors and tile floors can be cleaned easily using power washers. With low settings, we could also clean porch, patio, pools, screen doors and windows. Heaters and air conditioner parts could also be cleaned with power washers. Residential power washer should be able to deliver between 750psi to 5,000psi of water pressure.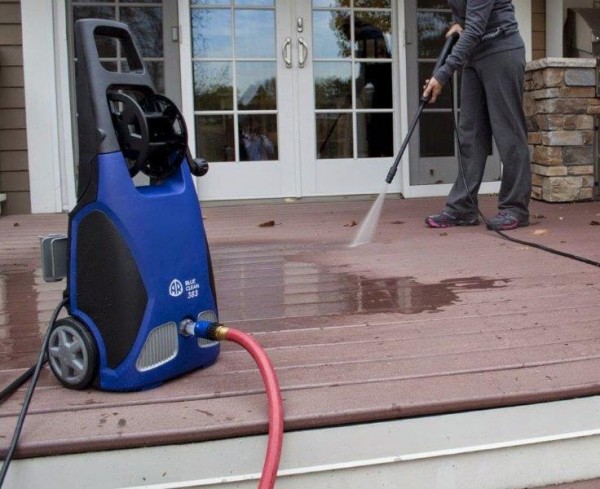 We should know that the lowest water pressure settings are still very useful for cleaning more delicate items. A residential power washer should still be reliable enough to clean fungus, moss, mud, grime, dust and dirt from gates, fences, walls, pavements and other things. If we want to use pressure washers indoor, it is a good idea to choose a model that has an electric motor. For more serious home improvement projects, we should choose more powerful models. Commercial power washers can be used to larger home improvement projects. It should be able to complete specific tasks more quickly.
Commercial power washers could still be used at homes for up to moderately heavy tasks, such as stripping old wall paints and graffiti. Pool can also be cleaned more easily with commercial power washers. More stubborn mold and fungus stains on tiles and bricks can be cleaned more easily. If we have farming equipments at home, commercial power washers should be quite useful. Sewer blockage could be cleared more easily with commercial power washers. Sidewalks, gutters and roof may require commercial models, instead of the ordinary residential types.
Depending on the situation of our house, it is possible that we would need more powerful and bigger washers. The pressure level of the washer could be determined by the performance of the motor. It is also highly recommended to choose power washers that have gas motors for interior usages. Good commercial washers should have about 15,000 psi of water pressure to ensure the ability of removing debris and dirt on many surfaces and crevices. Homeowners should be careful when using commercial-grade power washers, because more delicate surfaces and components can be blown away and damaged. It's also a good thing to choose washers that allow the use of hot water.