Purchasing a new construction home can be an extremely exciting process. It's always fun to can put your own personal touches on a brand-new house. However, it can also be intimidating when you are working with a blank slate and facing so many decisions. Which stain should I choose for my wood floors? What colors should I paint all the rooms? Do I want to go with white or brown kitchen cabinets? Which backsplash will look best with my countertops?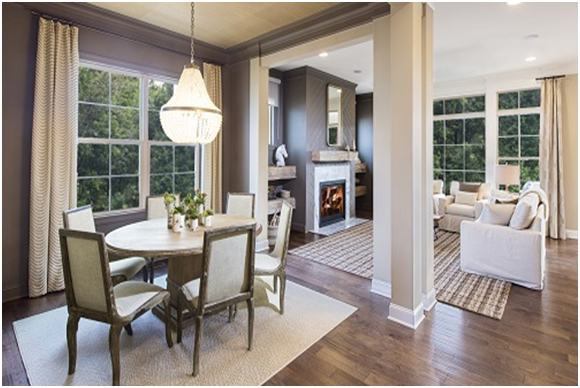 To help make your life a little bit easier, following are a few of the top design tips for a new construction home.
Choose colors that set the mood you are going for.
The colors that you use in your new home will greatly impact how both you and your guests feel when they are in the space. Cool colors like white, tan, and pale blue can help make a home feel more calm and relaxing. Alternatively, darker colors can make your home feel more warm and cozy, while bright colors can make the space feel more energized and full of life. While you don't have to stick to the same colors throughout your entire house, you want all the rooms to flow together well. Think about the mood you want to set, and try to stick to that palette.
Don't forget the details.
While they may not seem like the most important things to tackle when you are building a brand new house, the details are what can really make a house look more unique and feel more like a home. Incorporate crown molding and architectural trim work, especially in the common areas. These details can really give a space some character, and you can alter the styles based on whether you want your home to feel more traditional or contemporary. Another fun detail to include is wallpaper. Even if you are nervous about using wallpaper in a major space like the living room or dining room, you can always get creative in a powder room or laundry room.
Have a focal point in each room.
By creating a focal point in each room of your house, you are choosing one detail that you really want to highlight. Whether it is the fireplace, a large piece of art, or even the view outside, establishing a focal point makes it easier to design the rest of the space.