The tiny house movement is, indeed, taking off! Tiny homes are being featured in traditional and digital media, from television shows to webinars and podcasts, so highlighting the beauty of living large in a tiny space.
But finding the right bed for a tiny home can be a challenge, too, for many reasons. The limited space, oftentimes both in terms of floor area and ceiling height, is obviously the major consideration. The bed can neither be too large as to preclude the addition of other bedroom essentials nor too small as to prevent the user from a comfortable sleep.
Fortunately, there are several ways to overcome the limitations of space and several choices in the best bed for a tiny home. Here are a few of these ways and options that you, a tiny home property owner, can consider.
General Tips for Making the Right Choice
Let's first start with the general tips in choosing the right furniture for small spaces. These useful tips can be adapted in choosing the right bed for the bedrooms in your tiny home, too.
Choose compact and lightweight pieces.
Wood and metal are great choices because these are lightweight yet durable. But keep in mind that not all wood and metal materials can be used in tiny homes because of their heavy weight. The heavier the material for the bed frame, the more weight the tiny home has to carry – a big no-no in the sector.
Experts suggest wood like pine wood, birch and maple while aluminum and stainless steel are preferred materials for metal bed. Be sure to ask the retailer about the small beds' overall weight – frame plus mattress – so that these can considered when choosing.
Opt for wall-mounted beds.
Most beds in typical homes sit on the floor at all times, thus, occupying space. But in a tiny home where space is a premium commodity, so to speak, these aren't always suitable for many reasons. The space, for example, can still be used for daytime activities (e.g., workstation).
Murphy beds are the best examples of wall-mounted beds. During the daytime, these can be push up against the wall to free up the space underneath for other activities and, at night, these can be pulled down for sleeping purposes. These beds may or may not have close space and/or foldable furniture (e.g., table and chair combo) depending on the desired style.
Go for multifunctional, expandable or convertible beds
Each piece of furniture in a tiny home should ideally have multiple functions so that the limited space can be maximized. This is also true for the beds, which can be custom-designed according to the user's needs or adapted from ready-to-use beds.
A few examples of this type of furniture include:
Bunk beds that can be converted into sofas or study spaces for the kids
Tables that can be converted into daybeds, even full-sized beds, without taking up too much space.
You may have to order a custom-designed bed or make your own DIY bed that will fit in the tiny bedroom. But you may just order a ready-to-use small bed and adapt it to your desired functions, often with inspiration from DIY sites.
Of course, you have to make accurate measurements of the floor space and ceiling height of the bedrooms where each of the tiny beds will be placed in. You may have correctly measured the floor space for a Murphy bed but failed to consider the ceiling height – or any height, for that matter. This is true for Murphy beds that fold horizontally and vertically.
But don't stop with the correct measurements either. You will find that the right choice in bed for a tiny bedroom is just one part of the picture. You must also consider other design elements including but not limited to:
Avoid cluttering the small space with small pieces, both in terms of the furniture and furnishings (e.g., décor). The less number of items in the bedroom, the less cluttered and small it will be.
Stick to a monochromatic color scheme, preferably in neutral colors. Add a few splashes of bright colors to liven up the décor but airy colors, such as sunshine yellow, will make a tiny bedroom appear larger.
You may have to do a trial-and-error method on getting the right look for your tiny home's bedrooms. But since this is also true for the average-sized homes, you will likely just have fun while you're at it.
Best Bed Choices for Tiny Homes
Keep in mind that each tiny home will have specific measurements and, thus, its homeowner will have unique needs and wants in the beds. When you have collected the right measurements, your next step is to choose the best possible bed from these types of beds.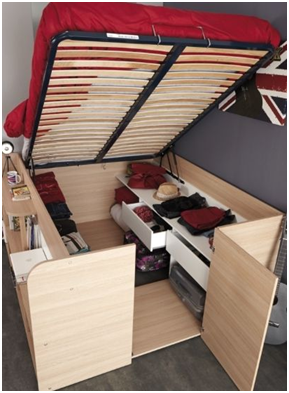 Lofted beds are placed on a loft, thus, providing sleepers with a cocoon-like feelings while asleep.
Non-lofted beds are usually incorporated with convertible furniture, such as a couch that can be converted into a full-sized bed or a Japanese-style floor couch with a pull-out to make it into a bed.
Bunk beds are the more common options for tiny homes, especially when there are children in the household. While many of these beds cannot be folded, many of them can now be folded either horizontally or vertically so that the space underneath can be freed up for other uses.
These beds come in several types, too. The horizontal fold-out beds are pulled out from the wall lengthwise while the vertical fold-out beds are pulled out from the top down. In terms of space, the horizontal fold-out beds are the better choice.
The sofa-bunk bed is a convertible piece of furniture that obviously becomes a sofa in the daytime and a bed at night, usually with just a few steps. The slide-out bunk beds provides one more bed in the same space – think of it as a triple-decker with the lowest bed being a pull-out.
Murphy beds can be pushed up against the wall when not in use and pulled down to the floor, when needed. As previously mentioned, this may or may not have foldable furniture and/or closet space underneath.
Did you know that hammocks can also be used as beds in tiny homes? Yes, but you may want to invest in beds that you can actually lie in since hammocks aren't for everyone.
No matter your choice in a bed for your tiny home, the most important consideration is whether you can enjoy a good night's sleep on it. You must then consider the mattress type and bed linens but that's another story.
Company Information:
BedsOnline, an online national retailer, offers a wide range of bunk beds in various sizes and styles, as well as mattresses and bed linens. Homeowners like to shop here because there are dozens of choices, no matter the size of their homes.