A winch is a device that is used to pull in, let out, or adjust the tension of a wire rope. In its basic form, the equipment is made up of a spool, also called a winch drum, and manual crank. In larger formats, winches are part of such machinery as elevators and steam shovels. More complex designs feature gear assemblies operated by hydraulic, electric, pneumatic, or internal combustion-type drives. Some winches include a brake or ratchet with a pawl device. Unless the pawl is retracted, the winch cannot unwind.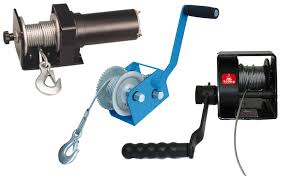 Winches Used for Pulling
Today's winches offer both lifting and pulling assistance. So, you need to detail how the winch will be used, and the weight of the equipment that the winch will be lifting or pulling, when looking to purchase or hire the winch that will suit your needs. If the winch will be used for pulling, you need to know the surface conditions. Also, rope length and diameter are needed to choose the right piece of equipment. You also have to provide the following details:
Line speed
The power source that is required or available
If the equipment needs a free-wheeling clutch
The types of controls that are needed
If multi-reeving is involved
Cable pulling winches feature capacities up to 10 tonnes, whilst bond lengths are available up to 1,000 metres. In some applications, bond lengths exceeding 1,500 metres can be successfully used. For cable-pulling needs, winches can be trailer mounted and are road-towable. The equipment also provides data logging and printer facilities. Boom attachments are also featured for down-hole pulling work.
Other Types of Winches and Hoists
Whilst cable pulling winches are used in a large number of applications, mobile winch hire companies also feature an array of winch models and styles. For example, winches are sold as air winches, base-mount winches, hydraulic winches, and in electrically powered styles. Specialist winches are available, as well, as moorings and hoists.
Offshore or rig installations are often supported by air winches. In addition, the equipment is used for various shipping and marine applications. Winches of this type may also be used for hazardous applications involving oil or gas. These winches are chosen for their durability, reliability, and basic operational design. Suitable for a range of difficult or hazardous environments, air winches also offer variable speed control. The machines are easy to service, maintain, and repair.
Hydraulic Models
Hydraulic winches can handle capacities ranging from one tonne to 400 tonnes. Therefore, the equipment is suitable for a number of applications and environments. Additional features include constant tension control, maximum load limits, remote control, load indication readouts, and distance and speed read-outs.
Base-mounted models of winches can cope with capacities from 500 kg to 300 tonnes. The units are powered by diesel, electric, or hydraulic drives, and feature single, double, or triple drum base mounts as well.
As you can see, you have a large selection of winches from which to choose. Therefore, make sure you are as detailed as possible when you are hiring a winch for your particular project. Ask questions of the hire company to ensure that the winch you select will meet all your work-site requirements.