Whether you're building a new home or have a remodeling project in the works, take a moment to consider one often-overlooked detail: air vents. Unless you plan to entirely forgo the modern convenience of conditioned air, your home will need some kind of HVAC system — and that means air vents in every room. Although air vents can easily be an eyesore in an otherwise chic room, they don't have to be. In fact, you can find several ways to incorporate air vents seamlessly into your home's interior design.
Find Covers That Blend In
One of the easiest ways to up the style factor of your air vents is to buy covers that will blend in with your home's decor. Install vent covers that match the color of your walls, or choose wooden vent covers that will go unnoticed on wooden floors, walls, or the ceiling. One example is the pattern cut design available from Floor Register Resources, which is available in oak, cherry, or maple. Some wooden vent covers are even designed to sit flush with the floor, making them even less noticeable.
Choose Covers That Stand Out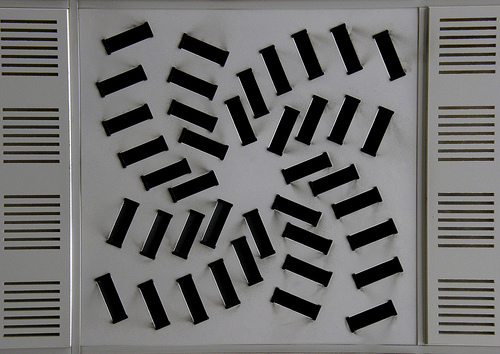 Image via Flickr by OliBac
Of course, blending in is only one option. You can also take the opposite approach and install air vents that will draw the eye like artwork. If you favor traditional decor, check out the selection of vent covers available from Fancy Vents. These elaborate designs can lend a luxurious feel to a remodeled bathroom or provide the perfect finishing touch for a Versailles-inspired bedroom.
You can also find simpler designs that will stand out in a good way. For instance, Architectural Grill offers several vent covers that will complement modern or minimalist decor, such as the frameless AG10 Bar Grill. The Contemporary Cast Iron Floor Register from Signature Hardware and the Lattice Aluminum Grill from Rejuvenation are other examples.
Optimize Their Placement
If you are installing vents in a new home or have a comprehensive remodel planned, you have the opportunity to choose where your air vents will be located. Floor vents are a good choice if you want wooden floors and vent covers that blend in perfectly. Ceiling vents are more likely to go entirely unnoticed, while wall vents offer a good opportunity to use your vent covers as decor.
Switch to a Mini-Split System
For a solution that maximizes both comfort and aesthetics, opt for a ductless mini-split system. This is a particularly good option if you want a basement that's free of unsightly ductwork or as an alternative to extending your current HVAC system into a new home addition. The indoor units for a mini-split system will be more noticeable than normal air vents, but they eliminate the need for ductwork and a large central HVAC unit. Plus, you can find creative ways to hide them or less obtrusive places to put them.
One of the trickiest but most important aspects of interior design is finding the right balance between style and comfort. Fortunately, thanks to ideas like those above, you don't have to sacrifice form for function. By putting some thought into their design and placement, you can make sure air vents don't become a sore spot in your interior design.