Paint the walls house is one of the most important decisions in the decor. Therefore, it is very necessary to know well what color to choose, what the right combinations are and what we must not do.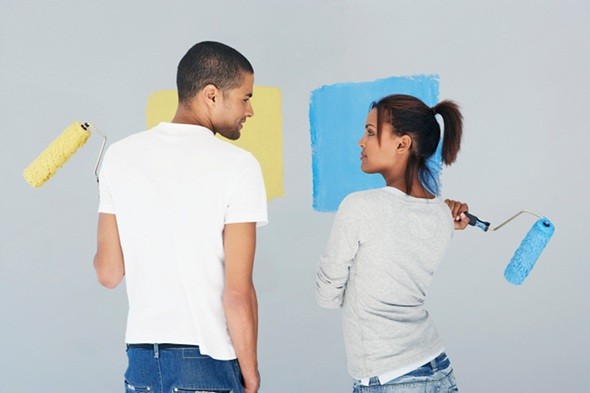 Choosing the right color for the walls of our rooms can be a tiring and overwhelming task, because we wonder how and where to begin when there are thousands of shades. To help you have more confidence when painting, some interior designers share what are the 7 most common mistakes in selecting paint.
Choose a tone just by seeing the color sample.Paint samples are misleading because not always reflect how will wear on surfaces. I recommend paint an area before committing to a color.
Do not consider changing colors during the day. According to the light of space and time of day, the color on the walls changes. It's always better to try painting and live with it for a couple of weeks. Paint a large sheet of paper and move it around the room at different times during the day.
Do not have a plan for the overall decor of the room. When a space is decorated for the first time, you have to consider how we want it to look, otherwise the combination of furniture and colors will be a disaster. What if you feel a cool navy blue sofa, but overwhelmed by walls that have already painted red?. Therefore, it is important to first choose the furniture and then paint colors.
Search too bright colors. To achieve a dramatic effect on our walls, sometimes we look very intense light colors. Beware, mixing colors earth tones rather than bright white because the contrast is much better.
Believing that all are equal. It is best to choose a neutral beige, because not all shades of this color are the same, there are ranges.
Do not break the rules. Many people are afraid of the dark colors, but in small spaces, low tones give a cozy feel. Paint small spaces in deep tones: In a small space, a dark color actually makes the corners are comfortable.
Living with a color you do not like. It's a shame you have to repaint a space that does not look like you expected, People are disappointed when the color goes lighter on the walls which was reflected in the paint sample. However, it is one of design errors cheaper and easier to correct.